Trading stocks seems easy, but a lot has to be put into consideration before venturing into it. Picking a good broker is one of the criteria's for a successful trade.
A good broker provides you with Educational tools such as eBooks, economic news, and the latest development in the trading world.
One of the stocks to add to your watch list IS Alibaba. ALIBABA is a Chinese multinational technology company that specializes in retail, internet, e-commerce, and technology. Alibaba was founded in the year 1999.
Another thing to put into consideration is the Price-to-Earnings (P/E) Ratio, dividends of the stock you want to invest in, and the chart. Jack Ma is the founder of Alibaba.com; its headquarters is located at Hangzhou, China. Alibaba is a China-based company that deals with commerce, cloud, digital media, and innovation initiatives.
Alibaba is one of the best selling stocks at the moment. Alibaba PE ratio as of September 11, 2020, is 42.64, total assets for the ending of June 2020 were $193.794 billion, which Is a 30.58% increase over the year. Alibaba's net profit margin as of June 30, 2020, is 31.96%.
Alibaba market cap as of September 11, 2020, is $734.88 billion. High yield and significant sales increase in recent quarters coupled with amazing 12-month performance have helped Alababa's Composite rating of 99 (scale of 1-99 with 99 being the best).
Alibaba has been consistent in delivering substantial growth despite being a mega-cap stock. Earnings and sales growth dropped drastically in May, due to the coronavirus outbreak. Adjusted profit increased to 2% year over year to $1.30 a share. But it was able to surpass the consensus estimate of 85 cents. Revenue increased 16% to just over $16.14 billion, also above expectations of $15.1 billion.
The company on August 20 reported a 15% rise in quarterly profit. Sales increased by 30% to $21.76 billion. The all-time closing price was 298.00 on 1st September 2020, with an all-time high of 299.0 which is 10.7% above the current share price, and its lowest stock price was 161.68 which are 40.1% below the current share price.
Alibaba had an average of 211.54 in the past 52 weeks. Mobile active users monthly totaled 874 million, up 15.8% from the year-ago quarter, and 3.3% sequentially.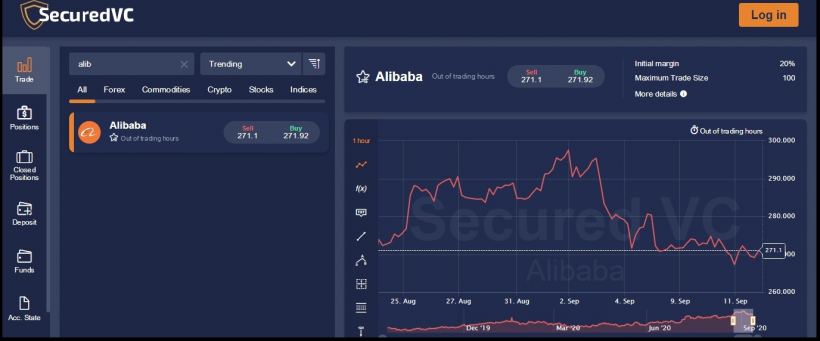 DATE                OPEN    CLOSE   DAILY HIGH        DAILY LOW        VOLUME
09/11/20            272.60  270.85    274.50                268.27              484,527.00
09/10/20            271.89  268.33    277.06                267.40               623,427.00
09/09/20            273.00  273.20    275.65                271.01                508,275.00
09/08/20            274.60  269.50  274.60                  266.60                779,018.00
09/04/20            281.20  280.25  283.64                  267.60                999,651.00
09/03/20            292.46  279.07  292.50                  278.1                 1,061,580.00
09/02/20            298.80  296.15  300.25                  289.83              667,563.00
SecuredVC analyst Chris Rice stated that Alibaba stock just sprung up from a flat base with a 268.10 buy point. The 5% buy zone has gone up to 281.50, extending it to a buy now. But it's very normal for stocks leading in growth to drop to buy points. Low volume drops are preferable to heavy-volume drops.
The relative strength line of stock, found in daily and weekly charts at SecuredVC.com, compares the stock's daily price performance to the S&P 500. An upward-tend RS line means that the stock is outperforming the S&P 500. A downward-trend means the stock is lagging the S&P 500. The major worry of investors towards Alibaba is the non-guarantee of ownership to the Alibaba group itself. Unlike US companies that provide direct ownership to their shares and stocks. Another concern that investors have towards Alibaba is the delisting of the company's stock from U.S. exchanges. Investors should focus closely on their annual active consumers.
In accordance to the data gotten from S&P Global Market Intelligence Alibaba (NYSE: BABA) shares increased by 14.4% in August 2020. Due to American government actions taken against Chinese companies, Alibaba posted great first-quarter results on August 20, despite having some setbacks due to the American government actions taken against Chinese companies. They had a stock decline of 5% on August 7 as the Trump administration was set to ban two Chinese social media platforms. If the relationship between China and America doesn't improve, there is every tendency of Alibaba losing significant sales destined for American shores.
Investor's mind was put to rest after Alibaba was able to exceed Wall Street's first-quarter targets. With their Sales rising to 30% year over year to $21.8 billion, and earnings increasing from $1.83 to $2.10 per share.