Introduction
Ripple is one of the leading blockchain platforms in the world. XRP, its native token, has a total market capitalization of more than $48 billion, making it the 7th biggest cryptocurrency in the world. It has remained consistently in the top ten for years. In this article, we will review what XRP is and whether it is a good investment in 2022.
What is XRP?
XRP is the native coin for Ripple. Ripple, on the other hand, is a blockchain project owned by Ripple Labs, a well-funded Silicon Valley company.
Ripple operates in the cross-border payments industry. It uses a product known as RippleNet to help companies in the industry like banks and fintech firms to send money at a relatively faster pace. It does this using a product known as On Demand Liquidity (ODL).
In the past few years, Ripple has entered into partnerships with some of the leading companies in the payment industry. Its biggest deal was with MoneyGram, one of the biggest companies in the cross-border payment industries.
Other companies that use Ripple products are Azimo, Ria Money Transfer, Nium, TransferGo, and Standard Chartered, among others.
Ripple 2021 Review
2021 was a relatively mixed year for XRP and Ripple Labs. The year started at a time when many exchanges were delisting XRP. This happened after the Securities and Exchange Commission (SEC) decided to launch a lawsuit against the company. This lawsuit also led to the suspension of the deal with MoneyGram.
The SEC alleges that Ripple Labs and its executives raised capital from investors without following due process. The SEC believes that XRP is different from cryptocurrencies like Bitcoin. Precisely, it believes that XRO is a financial security, which it should regulate.
Ripple Labs, on the other hand, believes that XRP is a cryptocurrency like BTC, LTC, and ETH. It has also argued that its token sale did not violate the law. Analysts believe that the lawsuit is nearing its end and that a verdict will come in 2022.
Still, behind the scenes, Ripple Labs achieved several milestones in 2021. For one, the volume of cross-border payments passing through its network jumped sharply in the year. At the same time, the company invested in Tranglo, a fast-growing fintech company.
It also made several partnerships, such as the one with SBI international. Additionally, the management suggested that the company will go public after the SEC lawsuit. So, should I buy XRP?
XRP 2021 Review
2021 has been a relatively successful year for most cryptocurrencies. Between January and November 25th, the XRP price was up by about 300%. This was a better performance than Bitcoin, which rose by about 120%.
Between January and May 2021, Ripple jumped by more than 875% and reached an all-time high of $1.9642. This price action was in line with that of other cryptocurrencies.
The price then crashed by about 745 between May and July. Similarly, this decline was in line with that of most cryptocurrencies. In the same period, BTC dropped from almost $65,000 to below $30,000.
However, while other cryptocurrencies rebounded to their all-time highs, XRP struggled to retest its all-time high. This was likely because most investors were waiting for the conclusion of the sec lawsuit.
Also, many investors were generally focused on other themes in the crypto market. For example, many of them were focused on Ethereum-killers like Solana, Avalanche, and Algorand. These were some of the best performing cryptocurrencies at the time.
Also, at some point, the focus shifted to meme coins like Shiba Inu, Floki Inu, and Dogelon Mars. There was also a rotation to metaverse cryptocurrencies like Decentraland, Sandbox, and Gala.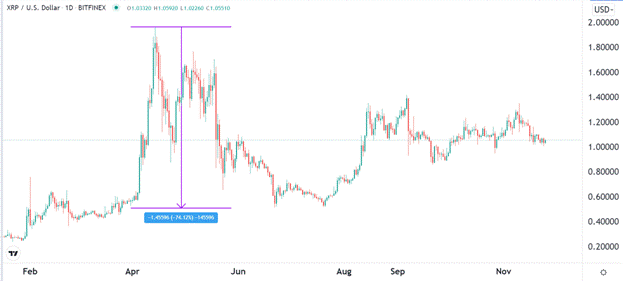 Is XRP a Good Investment in 2021?
At Bankless Times, they believe that 2021 will be a relatively good year for cryptocurrencies as the industry matures. However, there will likely be some risks. The biggest ones will be about regulations and monetary policy. As central banks tighten, investors will likely move to safe havens like bonds.
Ripple presents a high-risk and high-reward opportunity in 2021. For one, we expect that the SEC lawsuit will conclude in 2022. If this happens, the XRP price will rise because of two reasons. First, the talk of the parent company going public will draw investors to the ecosystem.
Second, the victory will give the company authority to make deals with other companies. Perhaps, it will want to do a deal with MoneyGram, which has already made a separate deal with Stellar Foundation.
The risk will happen if the company loses the lawsuit and is forced to make major changes to its network. This will likely lead to a major drop of the coin.
The Bottom Line
XRP had a relatively successful year in 2021. The coin rose by more than 300% even as concerns of the SEC lawsuit remained. The coin will likely have a good performance in 2022 provided that the company and its execs can win the lawsuit.